Exterminating Carpenter Ant infestation's in a pan abode style Home or commercial building, these buildings are very common on BC's west coast.
The house above is located in Shawnigan Lake, BC between Victoria, BC and Duncan, BC on Vancouver Island,Canada. It has a non-vented air space therefore, the roof can only be done properly, with a limited number of roofing products. We recommend Metal roofing with hidden fasteners or a rubber roofing system. Most pan-abode homes are made of 1x6 T&G. Where the ceiling is also the roof deck. These homes and buildings suffer from a number of problems. Poor insulation is one of the main problems. In the past builders would attempt to remedy this by adding a layer of thin Poly and then a layer of blue foam. OSB sheeting is then nailed or screwed. Often we see asphalt shingles used as the roofing option of choice. This method we have found on a number of these buildings. Most often this makes a dream home for Carpenter ants, most of the home owners we have met have spent countless dollars killing ants. Seems the Poly does nothing to stop the warm moist air from entering the space. Our solution is in place of the Poly, we install a peel and stick membrane. The benefit to this membrane is its ability to seal off the space totally, making the space devoid of warm moist air and it becomes a less likely space for nesting ants. Steel is also used in place of wood. I would love to say ants will never return but that's not realistic on Vancouver Island with our wooded environment. . If you suspect that you have a problem in the Victoria or Duncan BC areas, we would be happy to send one of our expert roofers to inspect your roof at no charge.
The roof above is a classic Pan abode roof located in Ladysmith bc on Vancouver Island Canada,
The Roof below is a home located in Lake Cowichan B.C.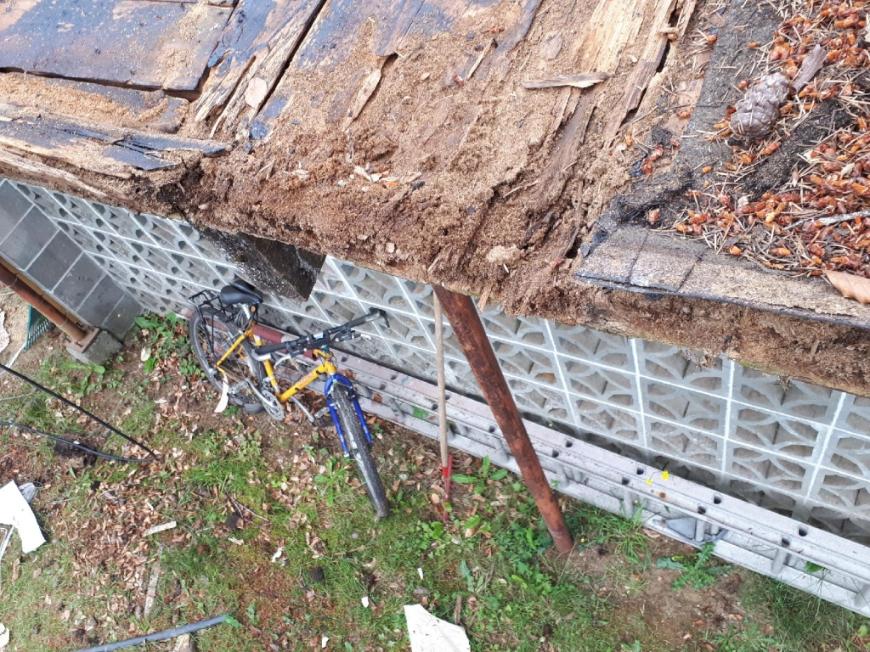 This picture below is a commen it wasn't until the roof flashing was removed did we see what was really going on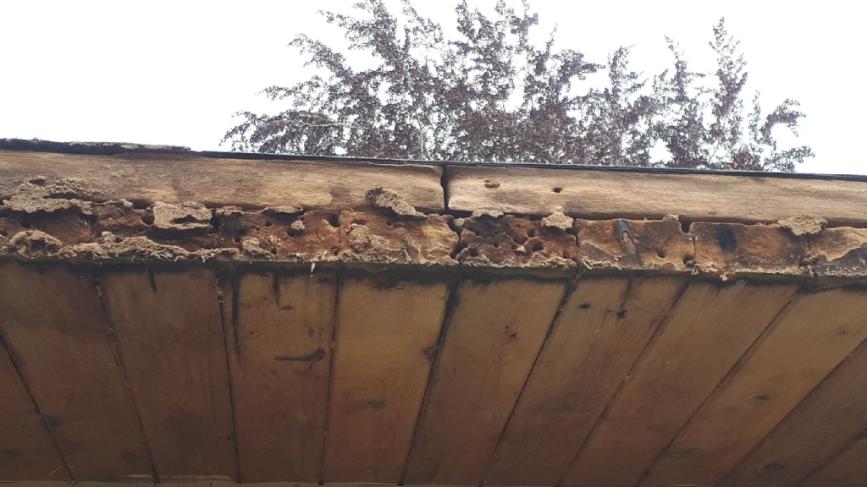 Unlike most ants, Carpenter ants don't seem to attack when their nest is under attack. You can see them fleeing on the wall and falling from the gutter. The ants left the home and headed across the back yard towards neighboring houses. Its my understanding that these ants have satellite nests away from the main nest. We are roofing contractors not pest guys and when this nest was located the roofers stopped and didn't want anything to do with it. We called a number of pest control people to deal with this a.s.a.p. we were shocked to learn that we were on our own. You can see the roofers are not in fall gear, I wouldn't normally have my roofers in a situation where they could fall. however this is a labor concession as the roofers were not thrilled about jumping in a nest full millions of 1" ants and wanted to be able to jump off should they come under attack. Luckily for us, we learned first hand that that these Vancouver Island carpenter ants would rather run than fight.
In The clip below, you can see a queen ant. It takes 5 years minimum for a Carpenter ants nest to reach the point that it can produces queens!
Rats and squirrels are a problem on Vancouver Island. We quite often get calls regarding these pests. Rats enter your home in the fall when the weather becomes cooler and damp. Roofs are an easy place to enter and the attic is a great place to nest. They get onto the roof from trees and shrubs or in some cases they climb up the gutter down spouts. The most common place we find that they like to enter is on a gable end, the fix is just some metal flashing. Squirrels can be really aggressive if you block access to their nest. I have seen them chew holes in roof vents to get back to their nest. My best advice if you don't want these unruly house guests, prevention is key. Remove tree branches and shrubs that are close to the home and anything that would enable them to have access to the roof. If you suspect that you have a problem in the Victoria or Duncan BC areas, we would be happy to send one of our expert roofers to inspect your roof at no charge.