We have suspended the RV roofing from our business. We're sorry. this out dated page is here for research only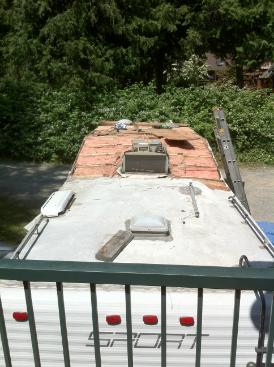 Old leaking EPDM rubber roof, it seems in the rv world that caulking is a roofing product. We don't share the same admiration for caulking. The poor roof design of most recreational vehicles makes them prone to moisture problems due to poor or a total lack of ventilation.
Moisture is not uncommon to any RV owners on the south coast, retail & RV stores sell a number of band aid solutions including fancy vent covers that they claim will stop leaks. It's a given that some leaks will be stopped when you install a vent over a vent. However none of these products are installed with the use of the roofing membrane and are prone to failure.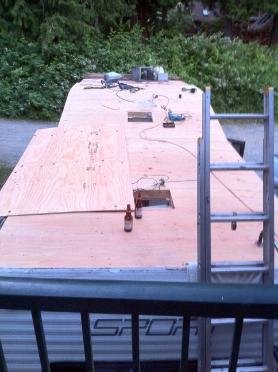 RV Roof after installation of new plywood sheeting, we removed the old rotted sheeting and ant nests, at this time we install the new ventilation system.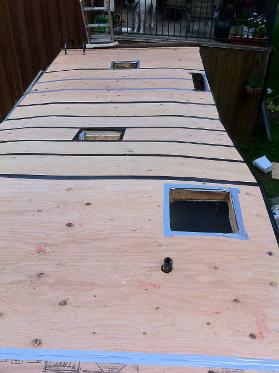 On this project we followed some of the protocol to the installation of a EPDM rubber roof, taping the seams and edges to prevent
failure of product, however with a 60mm Mule Hide reinforced TPO roof this is highly unlikely to occur.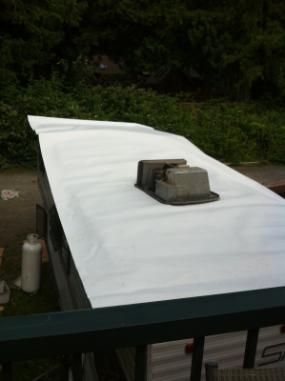 60mm Mule Hide TPO is very rigid and requires heating to mold it to the shape of the recreational vehicle.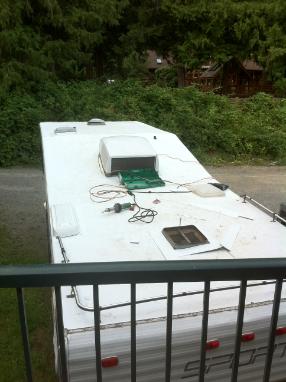 In this picture you can see that a number of the vents and the AC unit are back in place, the rear vent is being welded in with 60mm TPO. When this rv was built the vent would have been caulked down with the hope that it wouldn't leak!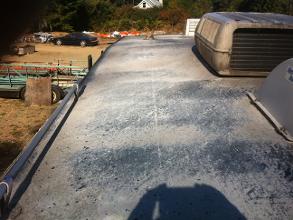 This picture is of an 1994 Terry fith wheel trailer, it was bought new in the Duncan, BC area. At first glance this trailer appears to be in beautiful condition.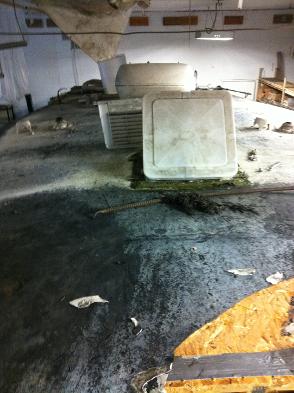 However once we started to remove the roof the monkeys popped out, thin 3/8" OSB board the moisture had made it soft and black.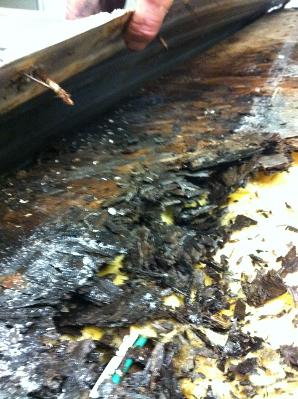 Here you see the OSB board on this RV Roof has turned to mush and black mold is growing on the front of the bunk.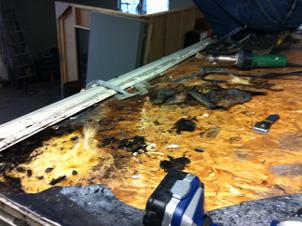 More mold and rotted OSB board.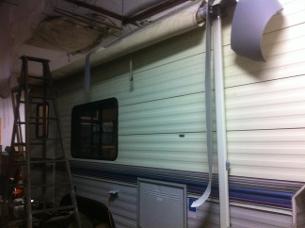 Here the awning is pulled away to install the new TPO roofing.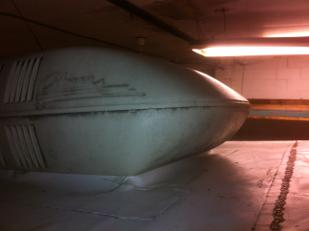 Here you can see a curb has been built around the AC unit, and new roof is in place.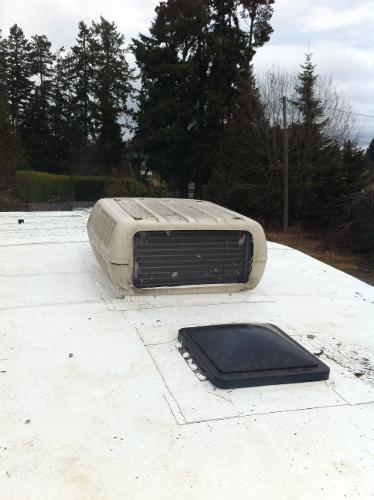 This is the trailer leaving to its new home in Victoria, BC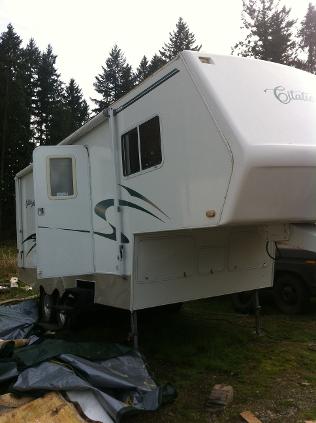 This was very beautiful trailer, but it was showing signs of water damage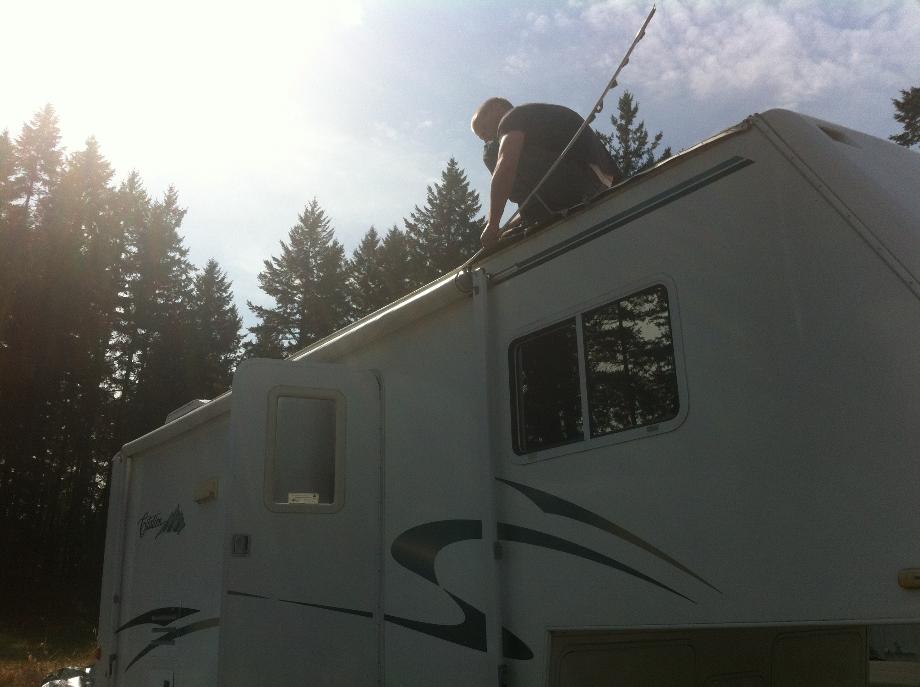 Trim was removed for what we thought was a simple re-roof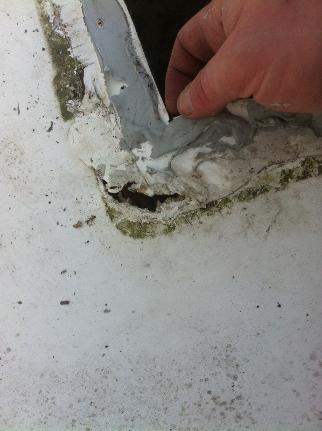 The roof membrane showed signs of failure around skylights and vents.
Removing the old roof and the tons of calking.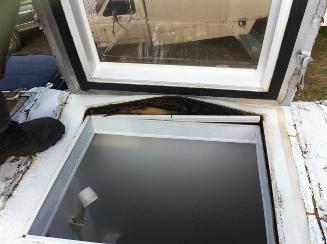 Removing the rear skylight we found the signs of rot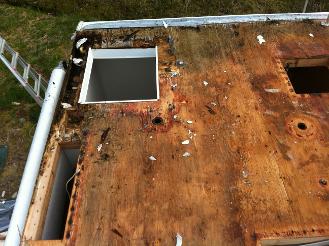 As you can see here there is lots of rot, What you are not seeing is the rafters, that have been built with finger joint lumber. If you built a building this way it would be condemned. If you are the do it your self type, this mess would stop most in their tracks.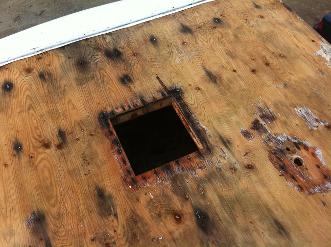 This is more rot and mold found on the front of the unit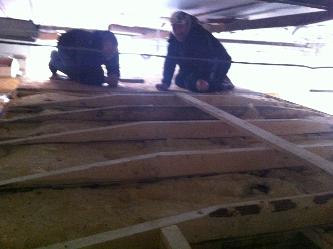 We opted to install new roof trusses with a space for venting, we also changed the roof to a pitched design.
You can see we left space for venting an attic space, that will allow proper ventilation.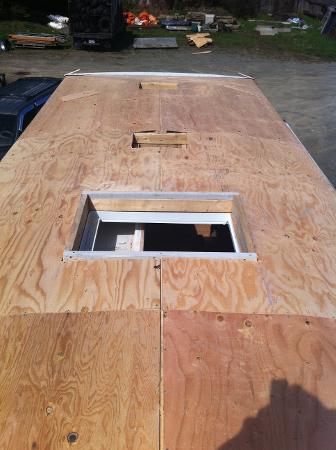 This is the new plywood roof deck ready for new Mule Hide TPO roof.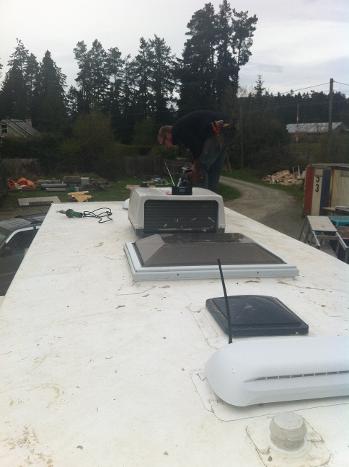 Here you can see the new Mule Hide TPO roofing has been installed and fridge vents have been used to vent the attic,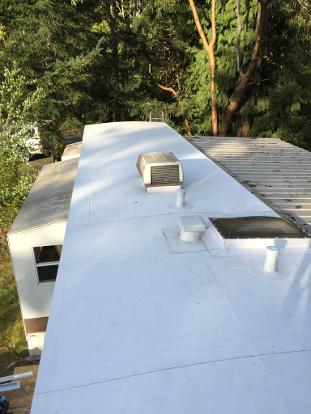 The trailer in the photo is a 40 foot park model. Each trailer is an evolution in design. There's no book on how to fix a rotted out trailer that is one step from advanced fort building. That being said this trailer is something that we are proud of and I see the roof outliving the rest of the unit.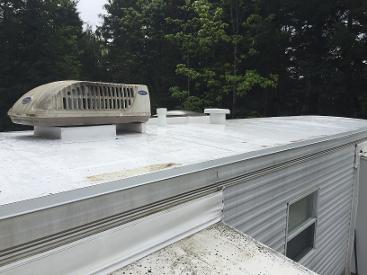 On this unit we have done away with the leaking side flashing and installed our own flashing. We have made it bigger than the stock one and added a drip edge. The roofing welds to this flashing eliminating the need to pin the roof to the trailer with a thousand leaking screws caulking and useless plastic trim.